Tuesday night, the South African jazz legend Abdullah Ibrahim might have played the fewest notes of any pianist appearing in the TD Ottawa International Jazz Festival's NAC Studio series.
But make no mistake, the impact of what Ibrahim played was huge. Making every note count, he led his "Mukashi" trio through an entrancing set of rarefied, uncompromising chamber music that stressed mood, melody and emotional depth over the torrent of notes that typified some NAC Studio shows.
Ibrahim, 80, was not so much a performer as a dignified presence whose dedication to making music was palpable.
During his 90-minute concert, he said not a word to listeners who packed the studio. They should not have felt snubbed, as the pianist said not a word as well to his musicians, Cleave Guyton and Noah Jackson. They were visibly on the edge of their seats to catch Ibrahim's musical cues from that dictated what song would be played next.
For Ibrahim and his band mates, playing a pat, predictable set was simply unthinkable. Better to live in the moment, Ibrahim must have thought, as he consulted a few scraps of sheet music and a lists of song titles on his music stand, and challenged his musicians to keep with him. He method welcomed listeners into the mystery and suspense of the concert.
Ibrahim began with 15 minutes of solo piano that seemed to chain together smaller pieces. A sustained ballad mood loomed over the music as Ibrahim kept his playing absolutely economical, with no wasted notes and certainly no flashiness. In a word, what he played felt essential.
When Guyton, who played flute, piccolo and clarinet, and Jackson, who played cello and bass, the music maintained its special clarity. Frequently, Ibrahim would usher them in and then allow them to play by themselves before he would return with a chord and a segue into another piece.
It's anyone's guess how many pieces the trio played. During the trio's first of two lengthy medleys,the tune Light Blue, by Thelonious Monk, emerged, followed by a few bars of Monk's tuneReflections. Then Ibrahim left Jackson on bass and Guyton on piccolo to play Skippy, one of Monk's most madcap pieces and one of the fastest tunes of the concert.
Even when Ibrahim wasn't playing Monk compositions, there was a lot of Monk's ear-catching approach in his playing, as well as echoes of Duke Ellington's magisterial playing. There were simple evocations of Ibrahim's home town, Cape Town. These influences were to be expected because Ibrahim has been drawing on them for more than five decades to create his own sound as a pianist and composer.
Ibrahim's originals dominated in the concert, even if he never announced their titles. A standout was his stately, gospel-tinged piece The Wedding, perfectly rendered for clarinet, cello and piano.
The trio received a standing ovation after its first marathon medley and then another when it finished its second, which felt a bit like an encore. The musicians bowed, namaste-style, to each section of the NAC Studio and then Ibrahim insisted that his colleagues take more protracted bows by themselves.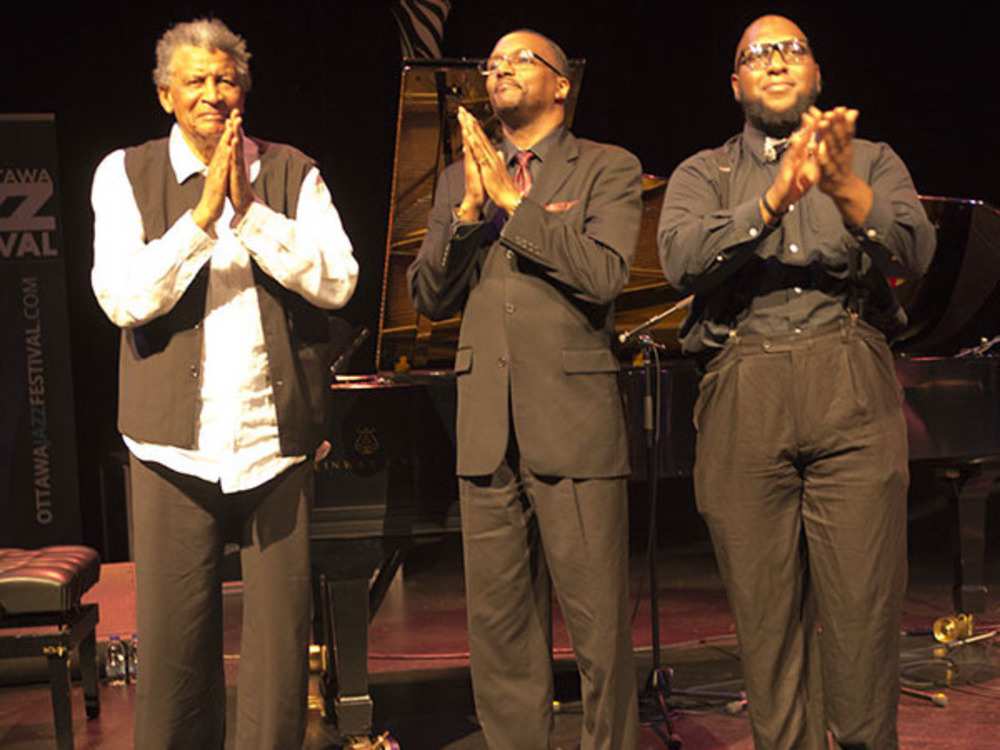 To the end, he remained silent, letting his music and demeanour express it all.
— Peter Hum, for Ottawa Citizen